Paddle Safety
By canoe, kayak, or stand-up paddleboard, paddling is a great way to explore Manitoba. Doing it safely will protect yourself and others, ensuring you have a great time, every time. To be sure you start out safe, there is some equipment you need to have, and things you need to know, before you paddle.
Mandated Safety Equipment
Transport Canada mandates that human-powered water craft, including canoes, kayaks, and stand-up paddleboards, are required to carry on board certain safety equipment, as specified in the Small Vessel Regulations and the Transport Canada Safe Boating Guide.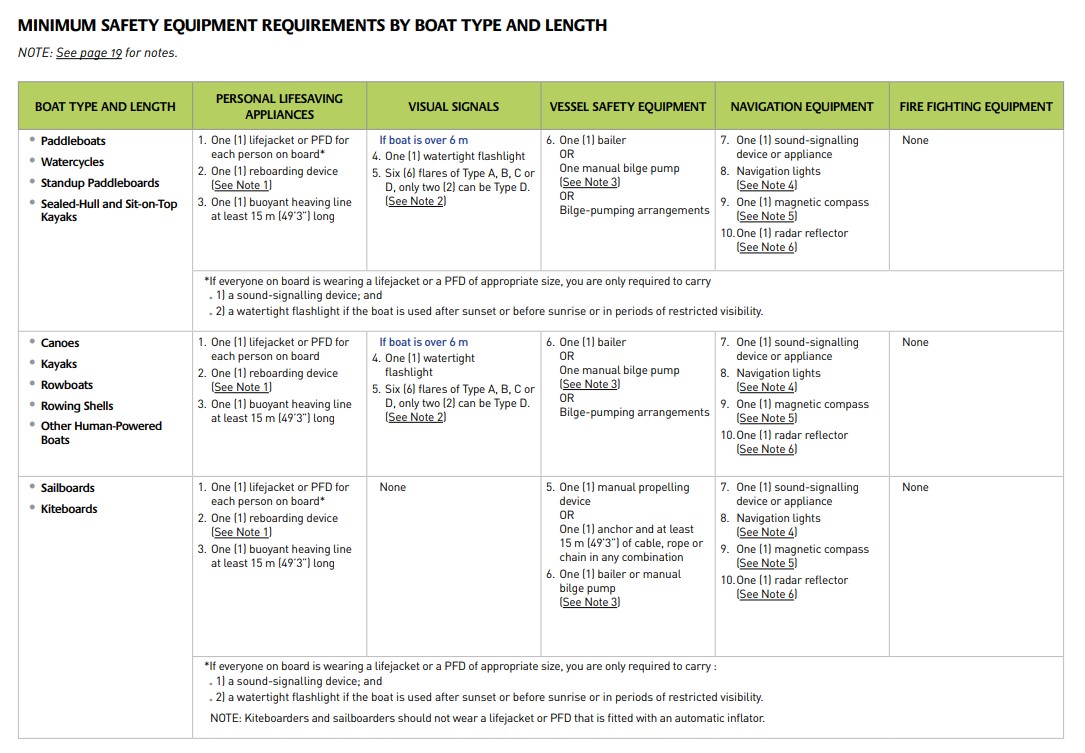 Minimum Safety Equipment Requirements By Boat Type and Length. Page 18. Transport Canada Safe Boating Guide. 2019.
For full details and links, consult this table in the Transport Canada Safe Boating Guide.
Your Lifejacket or PFD: Wear It!
You should always wear your lifejacket or PFD when on or near the water. About 90% of people who drown in recreational boating incidents are not wearing a lifejacket or PFD. Even if you have one on board, as noted above, conditions like rough winds, waves and cold water can make it very hard, if not impossible, to find it and put it on. Worse yet, if you unexpectedly fall into the water, the boat (with your lifejacket or PFD on board) could be too far away to reach. A lifejacket or a PFD is the best insurance you can have on or near the water. Find one that suits your needs and wear it!
What's the Difference between a lifejacket and a PFD?
Lifejackets come in red, orange or yellow so they are easy to see in the water. Lifejackets will keep you afloat and turn you on your back to keep your face out of the water, even if you are unconscious. They are not usually designed for constant wear, but compared to PFDs, they offer a higher level of protection.
PFDs (Personal Floatation Devices) will keep you afloat, but they generally don't roll you over on your back so you can breathe like lifejackets. However, since they are designed for constant wear, they are more comfortable than lifejackets and come in many colours and styles.
Understand the Risks of Cold Water
As the ice disappears in the spring, it's tempting to get out paddling right away. Same with fall, before the ice returns. But during these times, the water temperature is cold and the immediate effects of cold water immersion can be life-threatening.
Initially, cold water shock will lead you to gasp for air for three to five minutes. You could also experience muscle spasms or a rise in your heart rate and blood pressure. Worse yet, you could choke on water or suffer a heart attack or a stroke.
The longer you are in cold water, the harder it is to coordinate your movements. This will lead to swimming exhaustion. You will grow weaker and soon have difficulty holding onto the craft or putting on your lifejacket or PFD.
If you survive the first two stages of immersion in cold water, you are at risk of hypothermia as your body's temperature drops. Hypothermia affects a person's control over their muscles and thinking. Someone who is exposed to cold water and becoming hypothermic might shiver, use slurred speech, become semi-conscious, have a weak irregular pulse, no pulse, breathe slowly, lose control of body movements, behave in ways that do not make sense, act confused and/or sleepy, stop breathing, and become unconscious.
If you end up in cold water, do everything you can to save your energy and body heat. Swim only if you can join others or reach safety. Do not swim to keep warm. You may survive longer in cold water if you wear a Canadian-approved lifejacket or PFD so that you will not lose valuable energy trying to keep your head above water, climb onto a nearby floating object to get as much of your body out of or above the water as possible, cross your arms tightly against your chest and draw your knees up close to them to help you keep your body heat, and huddle with others with chests close together, arms around mid to lower back, and legs intertwined.
Don't Mix Alcohol, Drugs, and Boats
Boating, including paddling, under the influence of alcohol, or drugs is illegal. Staying sober is your responsibility. When boating impaired, you are not just a danger to yourself but to others too. You must always be prepared and alert.
Manitoba has fines and penalties for operating boats under the influence of alcohol or drugs. It is illegal to transport open alcohol on boats in Manitoba and passengers may may only consume alcohol on board a boat in Manitoba if the boat is anchored or docked and has a permanent toilet, cooking facilities, and sleeping facilities.
Take a Course
Learning the skills to become confident on the water will make your trips enjoyable and safe, such as taking a Paddle Canada canoe, kayak, or stand-up paddleboard instruction course.
Know Your Destination
Before you head out, be sure to learn about your destination. Check the weather. Collect maps or other navigation materials. Pack extra equipment, snacks and clothes. Carry a communication device that works in that area and leave a trip plan that details your route with someone in case of emergency.
Further Learning
AdventureSmart is a national program dedicated to encouraging Canadians and visitors to Canada to "get informed and go outdoors". AdventureSmart balances key safety messages with an individual's responsibility for safety; encouraging the public to obtain the knowledge, skills and equipment necessary for them to enjoy their outdoor pursuits, such as paddling.
Checkout the AdventureSmart paddling tips, and others, to help you be prepared to paddle!
This page contains information from the Transport Canada Safe Boating Guide, 2019.